About Us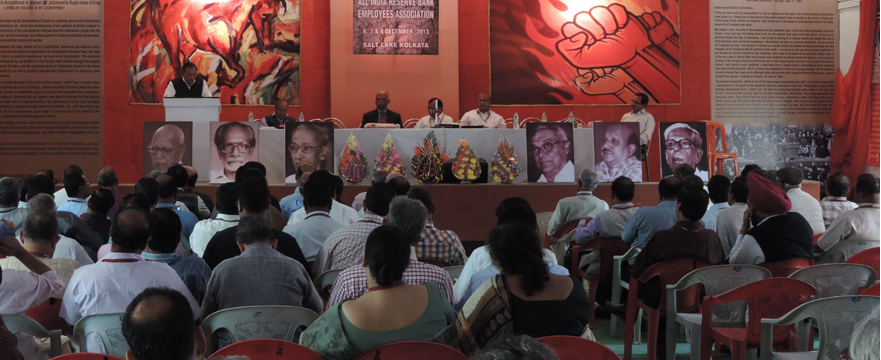 A  JOURNEY FOR NINETY YEARS & MORE: A BRIEF NOTE ON HISTORY OF AIRBEA
All India Reserve Bank Employees Association (AIRBEA) is the recognized Association of Reserve Bank's Class III staff with nearly 100% of the employees willingly becoming its members. Its history dates back to 1922 when the then employees of the Controller of Currency Office in Kolkata gave the first fledgling step to form the Currency Association on 17th February 1922. [* In the colonial days of British India Currency Offices in the country were entrusted with the currency related activities under the Government of India directly. Later Currency Office and some departments of Imperial Bank (which later became State Bank of India) and a portion of Accountant General Office were merged together to form the Reserve Bank of India in April 1935 under RBI Act 1934.] The foundation of Kolkata Currency Association inspired the currency employees of other centres. On 9th March 1923 Currency Association was formed in Bombay followed by Rangoon and Madras. Thereafter followed Cawnpore and Lahore. The necessity to form an All India Organisation was being felt. Ultimately "All India Currency Union" was formed in Kolkata in 1926 in presence of the renowned national leader Bipin Chandra Pal. When Reserve Bank was set up, All India Currency Union renamed itself as All India Reserve Bank Employees Association (AIRBEA). Thus AIRBEA in some sense is older than RBI itself. It also happens to be one of the oldest trade unions in the country; older than this AITUC was formed in 1920, so also the union in Imperial Bank of India.
It may be mentioned that eventhough RBI was constituted in 1934/1935 under RBI Act 1934, as a "body corporate" with an initial capital of five crores of rupees, it was nationalized on 1st January 1949 after the Government of free India bought private equity shares of RBI in 1948 under public pressure.
Back Ground: The salaries of the employees of the Currency Offices were too inadequate to meet the bare necessities of lives. The salary structure was not uniform. It differed from centre to centre. The temporary employees in Coin Section in Kolkata used to get only 12 annas (75 P.) as daily wage. It was hiked to Re.1 per day later on. The "shroffs" who were entrusted with the duty of note/coin examination were subjected to financial penalties of Rs.2/3 per month on an average, had the counterfeit notes and coins escaped their notice in course of counting and examination. In 1924 it was assessed by the `Debt Enquiry Committee' that 90% of the employees of Currency Office in Kolkata were heavily indebted. The working condition in Office was not only shabby but distressing too. The `shroffs' had to sit on mat spread over on floors to perform their duties. In the then Note Examination Sections there were no provision for drinking water. Even in 1940, when Reserve Bank has started functioning, the request for providing high chairs to the employees who rendered services to the public from counters was turned down by the management with the comments "Stools are more comfortable and convenient to the staff than chairs". As a result of this unhygienic working condition, the employees became easy victims of T. B. and succumbed to premature death. The attendance time was fixed, but there was no fixed time of departure. The work sometimes lingered till midnight as long as balance was not reconciled. Issuance of show cause, charge sheets, suspension and dismissal orders were very frequent. Even, employees were not granted casual leave, despite having casual leave at their balance. Pay cut was a regular phenomenon on flimsy ground. Everything would go according to the whims and caprices of the authority.
From Prayer & Petition
Since then our Association has grown through many vicissitudes and struggles. Counted in terms of hundreds at the formation, by 1983 the membership rose to a little over 18000 with constituent units at 21 centres. The start was modest with timidity and trepidation; employees and association preferred appeal, not agitation, for highlighting the demands. Babu culture was very much predominant. Mingling with general trade union movement, as such, was a far cry. Only in the forties of the last century countrywide massive freedom movement participated in by workers, peasants and other sections of toiling masses started having its ripples inside Reserve Bank too and in the mind of its employees. Young people from Colleges and Universities imbued with strong patriotic feelings and anti-British outlook joined the Bank and gradually convinced the employees that it was futile to remain aloof from situation around. It was also not in their interest. A new chapter was opened. All India Reserve Bank Employees Association (AIRBEA) gradually started taking proper orientation as a collective body of employees and became an integral part of general trade union and democratic movement. Com. Ashis Sen who joined RBI in 1944 along with a band of young employees were instrumental in ushering the welcome change.
Long March
Since then AIRBEA has traversed a long path and has passed through many trials and tribulations. While protection of employees' interest has always been uppermost in its mind, not for a while it has overlooked its responsibility towards this premier institution, to build up a proper work culture herein and project its image at every level. Besides, as a component of general trade union and democratic movement as well as conscious citizens of the country, AIRBEA firmly believes that members' interest and their future are linked with that of the toiling masses in general. AIRBEA and its members have tried humbly to serve the country and the people whenever occasions so demanded, be it natural disaster or external threat.
Land Mark Events
A few glimpses of some of our landmark events are very relevant to understand the trajectory of AIRBEA. The main organization of bank employees All India Bank Employees' Association (AIBEA) which was formed in mid forties issued a call of strike on 6th and 7th of January 1956 on several pressing demands of bank employees. The Government imposed "preventive detention act" and started arresting leaders and union workers. Com. Ashis Sen was arrested on 4th January 1956 midnight. The news spread in all office of Reserve Bank where employees spontaneously went on a day's strike. It was a significant event in the history of Reserve Bank employees' movement. In the year 1968 for participation in a countrywide strike of the bank employees on the demand of nationalization of private banks (subsequent to which banks were nationalized in 1969) its Calcutta unit faced the wrath of the management when some of our members were charge-sheeted, one of them suspended. In 1970 Mumbai unit of AIRBEA went on strike for 18 days against Bank's move to burn soiled notes, without counting and examination. In the year 1979, for raising a principal point on dearness payment, which was denied to the bank employees, ESMA was imposed and an ordinance was promulgated by the Government of India to declare any agitation in RBI illegal. Many of our leaders and activists were chargesheeted, suspended, jailed, dragged to courts of law; many had to go underground. But ultimately AIRBEA succeeded in getting what is reasonably due not only for its members but the entire fraternity of bank employees. In 1983, AIRBEA put up strong resistance to some derogatory policy sought to be implemented by the management in the Cash Department. In retaliation, Bank dismissed about 17 Committee Members in Kanpur, and Secretary of Delhi Association. In 1987 Bangalore unit had to resort to strike for 42 days against recalcitrant management and their desperate anti-employee stance like dismissal of trade union leaders. However, through protracted struggles the dismissed colleagues were reinstated with full honour.
What AIRBEA Stand For
AIRBEA has always been conscious participants in the struggle to oppose privatization of public sector enterprises including banking and other financial sector, against anti-employee amendment of labour laws. We have upheld issues of national importance. As an organization we have always cherished the unity and integration of our country with its plurality of culture, religion, castes, language and ethos. We have never resiled from social issues. At the call of AIRBEA Reserve Bank employees all over the country observed a day's token strike in 1996 on the exclusive demand of recruitment of unemployed youth, which is an important social issue, only whereafter about 300 young men and women joined the Bank in late nineties.
New Scenario : RBI
Ushering in of new economic policy of liberalization, privatization and globalization has brought in sea changes in the country's economic situation. Privatisation of public sector, opening up of our economy to foreign multinationals, downsizing and retrenchment have unfortunately become the priorities of the Government. Coming to our own institution, the issue which has always engaged our attention is the duties and responsibilities of RBI. We strongly feel that a strong and independent central bank accountable only to the country's Parliament is sine qua non for a stable economy. Historically, RBI has been playing many developmental roles, which has strengthened our economy. Rightly the country's policy makers endowed it with multiple tasking and mandates. However, with the advent of globalization, RBI's role is being systematically diluted. World-wide experiences confirm that a strong and independent central bank is a sentinel, a strong guard against wanton penetration by the global capital in a country's economy. Hence global capital has always tried to weaken the authority of Reserve Bank of India as a prelude to their financial and political offensive. Downsizing of RBI hence has become order of the day to the detriment of vital service it renders to the nation.
Show Caused
AIRBEA was served with show cause notices twice in the last decade threatening derecognition, in 2001 and in 2007, because it fought for its members, fought against shrinkage of the Bank. The blatant attacks evoked sharp reaction from the entire Banking fraternity and all central trade unions of the country. In the face of attacks not a single member in any centre left AIRBEA.
Attacks on the Institution
In the year 2006 Reserve Bank of India in tandem with the Government of India decided to hand over the entire cheque clearing operation to a private outfit surreptitiously. RBI employees and Officers staged March to Parliament, mobilized and strongly argued in Parliamentary forum. We could retain our job. This was a great victory. A decade back the Government of India had decided to delink the job of Public Debt Management from RBI and entrust the same with another entity. In Central Budget 2007 the then Finance Minister proposed to establish a Debt Management Office(DMO) for managing India's Public Debt. AIRBEA strongly objected to the same and carried out massive campaign against this move. It approached all members of both the Houses of Parliament, the State Governments, all political parties and Central Trade Unions requesting for national consensus on this vital issue. Our cogent arguments and contentions at last were accepted by our Governor Dr. Raghuram Rajan who has dissuaded the Government from the venture. This is a temporary halt, though. The recommendations of Financial Services Legislative Reforms Commission (FSLRC) chaired by Justice Sri Krishna virtually strike at the very existence of RBI, taking away many of its functions and diluting its authority in framing monetary policy. AIRBEA is firmly opposing it.
With eroded authority and coverage due to certain policy decisions both by the Government and the Bank itself, Reserve Bank gradually became a poor replica of its earlier robust, vibrant and dynamic self.
Embargo on Class III recruitment : Lifted at last
Due to Bank's prolonged non-recruitment at the operational level for last two decades, the strength of the operational staff – Class III – reached its nadir. This cadre directly performing Bank's important ground level operations, which comprised 55% to 60% of RBI staff strength few years back came down to a meagre 16% which is disproportionate and asymmetric. This acute shortage of Class III staff had been affecting seriously the core central banking function and customer service in all the office of the Bank. For the last few years Bank's Human resource policies was directed towards elimination of Class III staff by several means, including lucrative early retirement package, total stoppage of recruitment of Class III, which are recruited State-wise. At the call of AIRBEA we organized strikes / demonstrative programmes for years together. Yes, after long drawn struggle we have succeeded and that's why 2500 new faces are coming in all the offices of Reserve Bank throughout the country. More are expected to come in the next few years. We heartily welcome our new friends.
"Those who cannot remember the past are condemned to repeat it" said Goerge Santyana. We constantly learn from our past and place the collective before the self, strengthen the collective to protect the individuals, strengthen the trade union to defend the trade. "History is a voyage; Not a harbor" – so said Arnold Toyenbe.
AIRBEA has been relentlessly fighting against virtual dissolution of RBI and attempts of de-unionisation in RBI. RBI has to be saved. RBI is to discharges its national responsibilities. We solicit everyone's support in this voyage, towards this great mission.