News item
VOICE BULLETIN OF RBEA, KOLKATA OCTOBER 2018
PROCEEDINGS OF PARLIAMENT COMMITTEE
SOME ASPECTS OF THE CURRENT ECONOMIC SCENE, DR. C. RANGARAJAN, FORMER, RBI GOVERNOR, voice 2017
voice 2017
MEMORANDUM OF SETTLEMENT BETWEEN AIRBEA & THE MANAGEMENT OF RESERVE BANK OF INDIA
VOICE SEPTEMBER 2015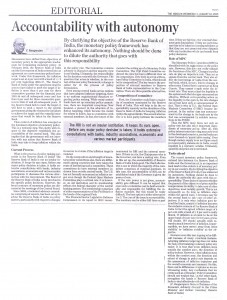 MONETARY POLICY COMMITTEE (MPC) – PROPOSED COMPOSITION 
SPECIAL ISSUE: OCTOBER, 2012 'V O I C E' ON AIRBEA SUBMITS CHARTER OF DEMANDS
REPRODUCED 3 ARTICLES OF IMPORT FROM ASSOCIATION'S JOURNAL VOICE MAY 2015 ISSUE
RECORD NOTE OF DISCUSSIONS BETWEEN IBA AND UFBU ON SALARY REVISION FOR OFFICERS
JOINT NOTE-CONCLUSION OF DISCUSSIONS BETWEEN IBA & OFFICERS' ASSOCIATION
GOVT  WITHDRAWS PROPOSED CLAUSES IN FINANCE BILL THAT WOULD HAVE STRIPPED RBI OF ITS POWER TO REGULATE GOVT BONDS
AN APPEAL TO THE HON'BLE CENTRAL BROAD MEMBERS OF RBI
Warm Congratulation to Sri G. C. Kirtikar
Organisational tasks-Post 31st Conference of AIRBEA, 2014
[AIRBEA,AIRBWF,AIRBOA,RBIOA]-writes to members of parliament on January 15, 2010
AIRBEA writes to members of parliament on shrinking RBI- a national distress on January 7, 2008
LAST JOURNEY OF COMRADE ASHIS SEN ON AUGUST 27, 2007
A LEGEND PASSES AWAY- COM. ASHIS SEN ON AUGUST 25, 2007
List of RBI Governors from 1935 onward
REPORT OF PREVIOUS AIRBEA'S CONFERENCE
Circular No.   11   /2013 (12th December 2013)
TO ALL UNITS & CEC MEMBERS By e-mail / FAX / Courier
Dear Friends,
31st Conference of AIRBEA – successfully
concluded – Creates landmark
The 31st Conference of AIRBEA was held in Kolkata on 6th – 8th December 2013. The AIRBEA Conference was last held in Kolkata in 1966 – almost half a century ago. This created an emotional impact in the minds of the members of RBEA, Kolkata, amongst all sections of staff as well as retirees of Kolkata Office. Everyone took it as an honour, an opportunity to host the highest event of AIRBEA, to welcome colleagues and fellow fighters from all corners of the country. The host unit rose to the occasion magnificently and extended to all-India delegations and honoured guests warm and cordial reception, all sorts of hospitality, displayed tasteful and aesthetic decoration, illumination, set-up and cultural presentations which won the hearts of every delegate / observer who extolled organisational commitments of the Association and went back to their respective centres, not only carrying pleasant memories but a conviction that despite all odds and obstacles "we shall overcome", which was the theme song of the event.
 In the absence of Sri Manik Sarkar, Hon'ble Chief Minister of Tripura, who was suddenly indisposed, the Conference was inaugurated on 6th December 2013 evening in the 2nd Floor Banking Hall of the Bank by Com. Basudev Acharya, the longest serving sitting member of Indian Parliament – thirty three years at a stretch from 1980 – a man of the masses, a true friend of trade unions like us. He spoke about the prevalent situation, the plight of the poor, the unorganized workers, the peasantry and called upon Reserve Bank employees to be part of the broader movement. He appreciated AIRBEA's efforts in defence of the autonomy of country's central bank and economic sovereignty of the country. Before that the cultural wing of RBEA, Kolkata enthralled the huge audience by exquisite rendering of inaugural songs by D. L. Roy, Tagore, Md. Iqbal and Petes Sigar. Com. Rupchand Pal, ex-M.P., Chairman of Reception Committee read out his welcome speech narrating the glorious heritage of the city of Kolkata in fields of culture, science, education, freedom struggle and struggles of the working class. As one who is intimately connected with AIRBEA and its movements he lauded the Association for their firm stand against anti-RBI and anti-national stance of the powers that be. The General Secretary welcomed the assembly and wished that RBI would discharge its important national responsibilities and assured employees' full co-operation in this regard. The Chief Guest, Dr. Subir Gokarn, economist and ex-Dy. Governor of RBI, talked about his experience of working in RBI and its crucial role in Indian economy. Com. M. V. Murali, Convener of United Forum of Bank Unions and General Secretary of NCBE, spoke about dangers before Indian public sector banking and the determined prolonged united fight by a million strong bank employees and officers, which has created history.
 The dias was artistically decorated with the slogans "Working Class Unity Zindabad", "Save RBI", "Save PSBs", "Save Public Sector", "Save the Nation" with the portraits of our departed leaders viz. Coms. Ashis Sen, T. K. Ghosh, R. S. Valanju, N. C. Das, M. O. Jacob, Biren Sen prominently displayed. The whole RBI building was brightly illuminated with a welcome gate at the entrance, which must be an artist's delight.
On 7th December 2013 morning the AIRBEA flag was hoisted by the General Secretary in the RBI Staff Quarters ground at Salt Lake amidst slogans of "AIRBEA Zindabad", "AIRBEA Long Live", "United Forum of Reserve Bank Officers and Employees Long Live" etc. Our Advisor G. C. Kirtikar, Executive Director Sri Gandhi, Regional Director, Sri Kanungo, Ajit Subhedar and other office bearers of AIRBEA and fraternal organizations offered flowers to the "Martyr's Column" in memory of those who laid down their lives for the country, for peace, progress and development, those who became victims of caste, racial, communal conflicts, also of natural calamities; paying tribute to legendary leader of anti-apartheid movement Nelson Mandela.
Delegates and Observers, numbering about 150 assembled in the Community Hall, adorned with a tastefully decorated dias and quotations from great personalities, home and abroad, including the famous letter of Rabindranath Tagore renouncing knighthood in protest against "Jalianwallabag massacre" and Swami Vivekananda's speech in Chicago in the World Community of Religions. Quotations from Mahatma Gandhi, Karl Marx, Lenin, Jawaharlal Nehru, Sahid Bhagat Singh, Netaji Subhas Bose, Dr. B. R. Ambedkar, Jyoti Basu added dignity to the whole ambience. Our various demands were prominently displayed.
Delegates' Session was greeted by our Advisor Com. G. C. Kirtikar, former Minister of the State of Maharashtra. Executive Director, Sri R. Gandhi inaugurated the session with a thought-provoking speech about the future shape of RBI as "a flatter RBI", more responsible and knowledgeable "front line cadre" and "everyone having a special role". He stressed that RBI employees must know what is happening at the grass root level, in the villages in particular, to understand and contribute to RBI's role and functioning. On Bank's behalf he assured to discuss Charter of Demands soon. He wished the Conference a success. General Secretary, AIRBWF, Com. S. V. Mahadik stressed on the unity and united struggle of all sections of Reserve Bank employees, irrespective of cadres, on common issues. He said that inter-union rivalries of the past has given way to all-embracing unity which is most welcome. Com. C. M. Paulsil, General Secretary, AIRBOA emphasized on the autonomy and independence of RBI and in that context criticized the recommendations of Financial Services Legislative Reforms Commission (FSLRC), stating that unitedly we should build up a strong resistance thereagainst. Com. R. N. Vatsa, General Secretary, RBIOA, speaking on behalf of the senior officers of the Bank, criticized Government's efforts to statutorise RBI Staff Regulations, terming it as "infringement on RBI autonomy" as "financial autonomy and functional autonomy" cannot be separated. He also opposed RBI's proposed move for "lateral induction" from outside in all senior cadres.
The General Secretary thanked the leaders for bringing the message of unity in the Conference of AIRBEA and said that only united struggle on common issues and demands is the path for the future.
Messages received from Governor, Dr. Raghuram Rajan, WFTU, CITU, HMS, Central Government Employees Confederation, UTUC. TUCC etc. were read out.
Com. General Secretary placed his report, paying tributes to our dear departed leaders and assuring that AIRBEA would be steadfastly following the path shown by them. He paid special tributes to Com. Jyoti Basu and M. K. Pandhe for their support to RBI employees' movement in critical times. Speaking for nearly two hours he narrated developments around which have a direct bearing on us, the fierce and cunning attacks AIRBEA faced which threatened its very existence which "perhaps no trade union in the country has ever witnessed". He said that for last couple of years "we had to plunge into an unprecedented battle for our survival". "We lost the numbers, not the spirit" and holding of the 31st Conference amidst enthusiasm and unbounded joy clearly shows that the machination to finish off AIRBEA has not succeeded, that "AIRBEA could not be stopped or cowed down, its journey is on, blessed with love and blessings of our innumerable well-wishers…." He said that our numerical strength has come down which demands that our activities, our living contact with members has to increase manifold. He says that we have also to introspect on our weaknesses and vulnerabilities and overcome those. We are fighting against an individualistic, selfish social order which generates a mind-set away from collectivity. But trade union is essentially a collective entity. It is necessary, therefore, to develop within us a collective conscience, different from individualistic orientation, and that is essentially a fight within our ownselves, which is difficult, no doubt, but which we must engage in and overcome. He sought suggestions from all from all units how to strengthen the Association, at unit and all India level.
The evening session on 7th December 2013 heard two important leaders of bank employees' movement, viz., Com. Rajen Nagar, President, AIBEA and K. Ramesh Babu, President, BEFI. Both leaders elaborated the situation in the banking industry, united struggle of bank employees to defend public sector banks, to protect employees as also to serve the masses of the people. They pledged support to RBI employees' movement to "save RBI", saying that RBI should be saved for the overall improvement and safety of nationalized banking sector and national economy.
About 40 members participated in the discussion on the report including three veteran comrades, who were amongst special invitees, viz., Coms. V. V. Asai (Nagpur), M. L. Malkotia (New Delhi), Praful Desai (Mumbai) who gave valuable suggestions. A few fresh entrants also addressed the delegates' session, who were warmly welcomed and who assured total participation of new entrants in Association activities, stating, inter alia, that new entry has been possible in RBI after two decades only because of sustained efforts of the AIRBEA. All units, all speakers, endorsed the report, pledged to carry the tasks forward assuring their best for the AIRBEA. Many suggestions came to strengthen Association activities, which were duly noted.
After General Secretary's reply and observations the Report was unanimously accepted with thunderous applause.
The audited accounts of AIRBEA upto 31st December 2012 was placed by Com. Sudipta Saha Ray, Secretary-cum-Treasurer, and were unanimously accepted. He also placed the report of the Credential Committee.
Resolutions on (1) Anti-people Economic and Labour Reform Policy of the Government, (2) Shrinkage of RBI, (3) Opposing FSLRC recommendations, (4) United Struggle against privatization of Public Sector Banks were unanimously adopted by the House.
 General Secretary proposed and Com. A. Govindsamy, Secretary, seconded following amendments to the AIRBEA Constitution and Rules:
Revised rate of subscription with effect from 1st January 2012.
Ratio of delegate(s) to the valid membership from each unit.
Composition of All India Office Bearers.
Constitution of Central Executive Committee Members of AIRBEA.
Constitution of General Council Members of AIRBEA.
The House unanimously accepted the amendments and decided to implement these for the ongoing 31st Conference and onwards.
Accordingly, the General Secretary proposed and Com. A. Govindsamy seconded, for the Office-bearers of AIRBEA:
Advisors                    : Com. G. C. Kirtikar (Mumbai)
"     T. K. Thankachan (Thiruvananthapuram)
President:    Com. A. N. Subhedar;    Working President: Com. A. Govindasamy                                                                               (Mumbai)                                                                      (Chennai)
Vice-Presidents         : Com. K. K. Sharma (New Delhi)
"     B. K. Chakraborty (Nagpur)
"     D. Goswami (Guwahati)
General Secretary     : Com. Samir Ghosh (Kolkata)
Secretaries                : Com. Sudipta Saha Ray (Kolkata)
(will also function as Treasurer)
"      Sanjay Waghmare (Mumbai)
"      N. P. Dave (Ahmedabad)
"      G. Kranti (Hyderabad)
"      G. N. Pareek (Jaipur)
Invitee                         : Com. Anoop Mishra (Kanpur)
The proposal was fully supported by the entire House with prolonged applause and enthusiastic slogans. It was a rare display of unity and camaraderie.
The House also elected unanimously the Central Executive Committee and General Council of AIRBEA upto the next Conference (Names given below).
Four centres viz., Ahmedabad, Hyderabad, Chennai, Nagpur proposed to host the next Conference.
The newly elected President of AIRBEA, Com. A. N. Subhedar concluded the session, thanking everybody and highly appreciating the arrangements made by RBEA, Kolkata, saying that they have "raised the bar too high". He appealed to the representatives to go back to their respective centres, report on the Conference, our achievements and future tasks and organizational responsibilities.
Amidst full-throated slogans of "AIRBEA Zindabad", "AIRBEA Long Live", "AIRBEA Right Path", the curtains came down on the 31st Conference.
The valedictory function on 8th evening was presided over by Sri B. P. Kanungo, Regional Director, RBI, Kolkata, who greeted outstation representatives, thanked RBEA, Kolkata, for organizing the Conference in an excellent manner and reminded the all India representatives of their responsibilities to make RBI responsive to the needs of the common people for whom the RBI was set up.
AIRBEA, Kolkata presented a cultural collage "We are not alone" comprising some folk arts of Bengal, like beating of drums, playing with bamboo sticks, Baul songs, etc. along with classical dances, songs and a small dramatic presentation on the theme of humanity over community. The rendering was highly eulogized by all.
Thus came to an end the historic 31st Conference.
Onwards to 32nd Conference.
Onwards to a century of purposeful, struggling existence.
Onwards to unity and victory.
AIRBEA wishes a Happy New Year to all members, well wishers and friends.
AIRBEA heartily welcomes and extends best wishes to the second batch of new recruits in Class III, all of whom are enthusiastically joining our Association.
LONG LIVE AIRBEA.
Yours fraternally,
(Samir Ghosh)
General Secretary)
List of CEC Members
Ahmedabad         : Com. R. D. Maghnani                       Bangalore       : Com. S. C. Mandekar
Bhopal                :     "     M. R. Khan                           Bhubaneswar  :     "    Purna Chandra Behra
Chandigarh        :     "     Banohar Singh                     Chennai          : 1) "   B. Cristy Kennedy John
Guwahati           :     "     Anil Choudhury                                               : 2) " N. Venkatesalu
Hyderabad           :     "  N. Sundar Ram Prasanna
Jammu            :     "  B. S. Kirola                          Jaipur             : Com. Ram Gopal Sharma
Kanpur               :    "   Vasudev Singh Gaur               Kochi             : Com. B. Hemant Kumar
Kolkata    : 1) Com. Asit Bhattacharya               Lucknow         : Com. Sreekant Arora
: 2)    "     Ranajit Saha
Mumbai             : 1) Com. Prakash K. Renavikar
: 2)    "     Prasad A. Deorukhkar
3)    "     Ramchandra L. Vengurlekar
4)  "     Harish J. Ambre
5)    "     Pradeep B. Puthran
Nagpur                :   Com.   M. B. Barapatre                 New Delhi         : Com. Sunil Kumar
Patna                  :   Com.   Kapil Deo Kumar               Pune                : (to be filled up later)
Thiruvananthapuram : Com. N. Shajiraj
Special Invitee to CEC Com. D. Sur – Kolkata
:   "     K. S. Ravindran – Kochi
List of General Council Members elected in the 31st Conference of
AIRBEA which is a part of the AIRBEA Circular No. 11/2013 dt. 12.12.2013
Ahmedabad

: 1) Com. H. K. Gamara
: 2)     "     N. K. Dave
Bangalore

:     Com.   Prahlad
Bhopal

:     Com.   R. K. Tagad
Bhubaneswar

            :     Com. Subash Chandra Parida
Chandigarh

:     Com. Aswini Kumar
Chennai

: 1) Com. A. P. Mathivanan
: 2)     "    G. Vasudevan
: 3)     "     G. Sridhar
: 4)     "   J. Balaji
Guwahati

:     Com. Abid Azad
Hyderabad

:     Com. K. Ravi Shankar
Jammu

            :     Com. Tharu Ram
Jaipur

            :     Com. Basanta Kumar Jammarh
Kanpur

            : 1) Com. Nagesh Kumar Barthwal
: 2)     "     Abhinav Varma
Kochi

:     Com. N. Rajappan
Kolkata

: 1) Com. Kabita Roychowdhury
: 2)     "     Santu Pada Majumdar
: 3)     "     Srimanta Mitra
: 4)     "     Probhat Adhya
: 5)     "     Tapan Modak
Lucknow

:     Com. Rishikant
Mumbai

: 1) Com. Vijay Pandit
: 2)     "     Sambhaji Bhogale
: 3)     "     Smt. Taj S. Syed
: 4)     "     Vivek Hukerikar
: 5)     "     Sudhir Ambre
: 6)     "     Sanjay D. Bhatwdekar
: 7)     "     Prakash M. More
: 8)     "     Pramod B. Mhatre
: 9)     "     Promod P. Raut
:10)   "     Ajay S. Ambre
Nagpur

: 1) Com. R. G. Chouhan
: 2)     "     V. M. Badkas
New Delhi

: 1) Com. Kamaljit Singh
: 2)     "     Arup Nandi
Patna

:     Com. Pramod Kumar

Pune

:    (to be filled up later)
Thiruvananthapuram

            :   Com. K. Krishnamoorthy
Special Invitee                               :   Com. Debashis Bhattacharya
(AIRBEA Office : Kolkata)